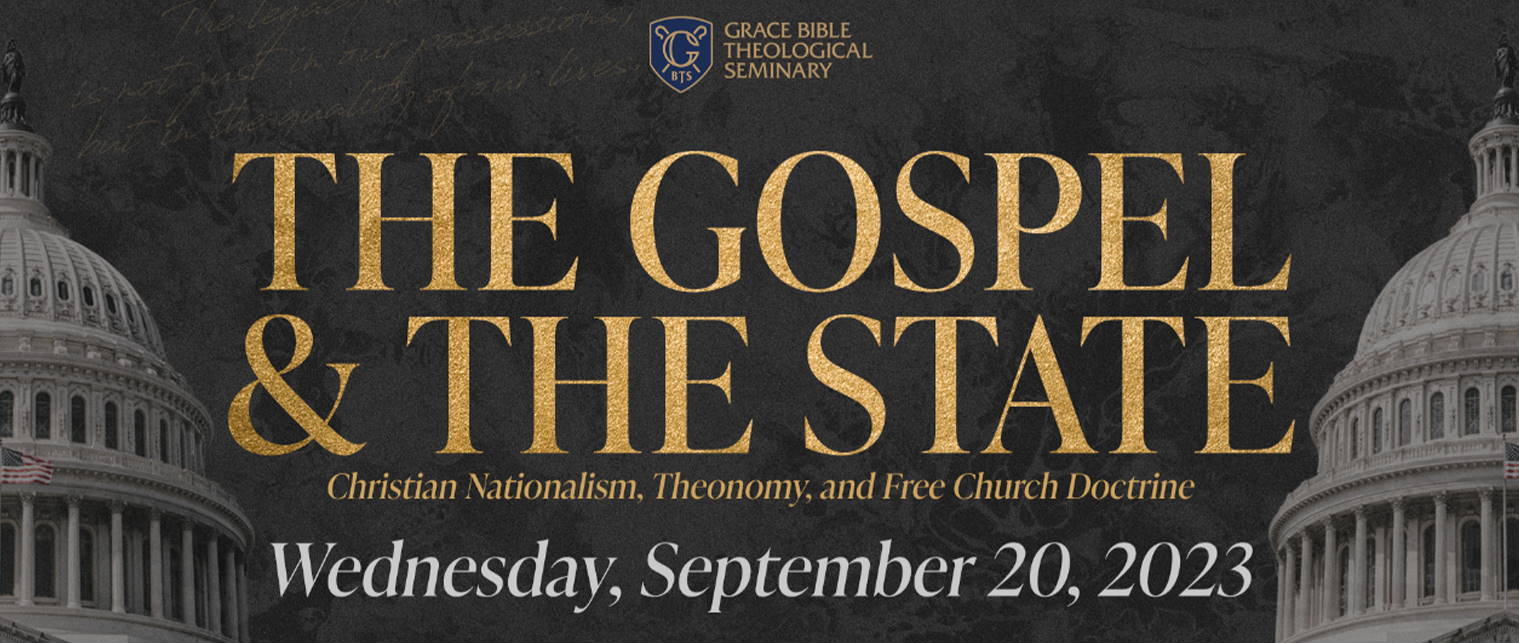 Grace Bible Theological Seminary
G3 2023 Pre-Conference
"The Gospel & the State: Christian Nationalism, Theonomy, and Free Church Doctrine"
Who: All are welcome to attend (each attendee must obtain a ticket to the event)
What: G3-Sponsored Event; Course credit is being offered through GBTS
When: Wednesday, September 20, 2023
Where: Near the Site of G3 National Conference, Atlanta, GA (Location TBA)
Cost: Early bird price of $29 until July 31; Late registration is $39
Register Now!
Pre-Conference Description
"The Gospel and the State" is an official G3 2023 Pre-Conference. This one-day conference is $29 per attendee and open to all—however, all attendees need to register in advance to attend. This event will be held near the site of the G3 National Conference. Registering for this event DOES NOT register you for the G3 2023 National Conference. For G3 2023 National Conference general registration, please click here: https://g3min.org/events/g3-2023-the-sovereignty-of-god/.
This exciting pre-conference will feature biblical, theological, and historical consideration of the role of the church relative to the state. Six seasoned preachers and teachers of the Word will engage such topics as the mission of the church, the role of individual Christians in a fallen world, the way eschatology shapes our ecclesiology and experience, the meaning of "Christian nationalism" as a concept, and the centrality of gospel proclamation. Join us to hear from Dr. James White, Dr. Jeff Johnson, Dr. James Coates, Dr. Owen Strachan, Dr. Scott Aniol, and Dr. Jeff Moore. We'll conclude our one-day event with a panel that will include Dr. Josh Buice and will feature lively, friendly, and reflective conversation on hot topics and biblical doctrines.
Course Description
The Gospel and the State is a GBTS seminary class at the master's level that will cover the relationship of the church to the state. It involves ecclesiology, public theology, and biblical cultural engagement. Course material addresses the mission of the church, the call of Christians to be "salt and light," the eschatological expectations of God's people in the pre-consummated age, a sound assessment of nationalism and patriotism in scriptural perspective, and the centrality of gospel proclamation. Students enrolled in this course will attend all sessions of "The Gospel and the State" G3 pre-conference and all plenary sessions of the G3 National Conference.
GBTS Course Credit Information: To enroll in this course for official credit, one must be admitted and enrolled as a GBTS student for the Fall 2023 term (enrollment closes August 2023, and no late enrollees will be accepted). Students will complete assignments in the course that include course reading, a book review, and a position paper. Course credit will be for three (3) credits, equivalent to a GBTS master's-level course.
FAQ
Can this class be substituted for another class in the GBTS M.Div. curriculum?
Yes.
Do GBTS students need to register for the class AND for the event?
Yes.
Does the student taking the course for credit need to attend the G3 Conference plenary sessions?
Yes.
Can I take the GBTS course and not attend the rest of the G3 Conference?
No.
Is there any special scholarship for this class?
No.
Can I access the course via livestream or from a distance?
No.
Can women attend the pre-conference as an attendee or as a student?
"Yes," we welcome women as conference attendees! "No," women may not enroll as GBTS students since our seminary programs are aimed at preparing men for pastoral ministry (1 Tim 3:2).
Can a student at another seminary take this course for credit?
Individuals who desire to take the course for credit must go through the normal application process of GBTS. A student would have to be admitted to a degree program at GBTS in order to be enrolled in the course.
Should I go through the application process at GBTS just to take this one (1) course?
We only encourage students to go through the application process if they plan to enroll in and pursue a degree program at GBTS. Courses may not be taken à la carte at GBTS. Remember, everyone may attend the pre-conference as conference attendees as long as they register in advance. Individuals are welcome to attend as conference attendees without being GBTS students.
Do the normal GBTS Fall 2023 application and registration deadlines apply to this course?
Yes.
The corporation shall not discriminate against applicants, employees, students, volunteers, and others on the basis of race, color, nationality, or ethnic origin; however, as a religious institution, the corporation reserves the right to deny or terminate employment or to deny or  terminate any other status of persons whose lifestyle, words, actions or otherwise do not align with the corporation's Statement of Faith, standard of conduct, or other policies of this organization.