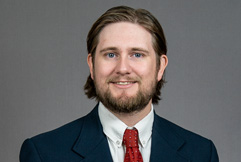 Preston Kelso - Academic Dean and Instructor of Old Testament
Preston was ordained in 2012 and served for 8 years as Pastor of Flat Rock Missionary Baptist Church in Quitman, AR. He earned his Bachelor of Arts from Central Baptist College, Conway, AR, and Master of Divinity from the BMA Theological Seminary in Jacksonville, TX. He is currently a postgraduate student at Puritan Reformed Theological Seminary in Grand Rapids, MI. Preston is a member of the Evangelical Theological Society. He serves as Professor of Biblical Studies at GBTS. He and his wife, Breana, have two children.
The corporation shall not discriminate against applicants, employees, students, volunteers, and others on the basis of race, color, nationality, or ethnic origin; however, as a religious institution, the corporation reserves the right to deny or terminate employment or to deny or  terminate any other status of persons whose lifestyle, words, actions or otherwise do not align with the corporation's Statement of Faith, standard of conduct, or other policies of this organization.