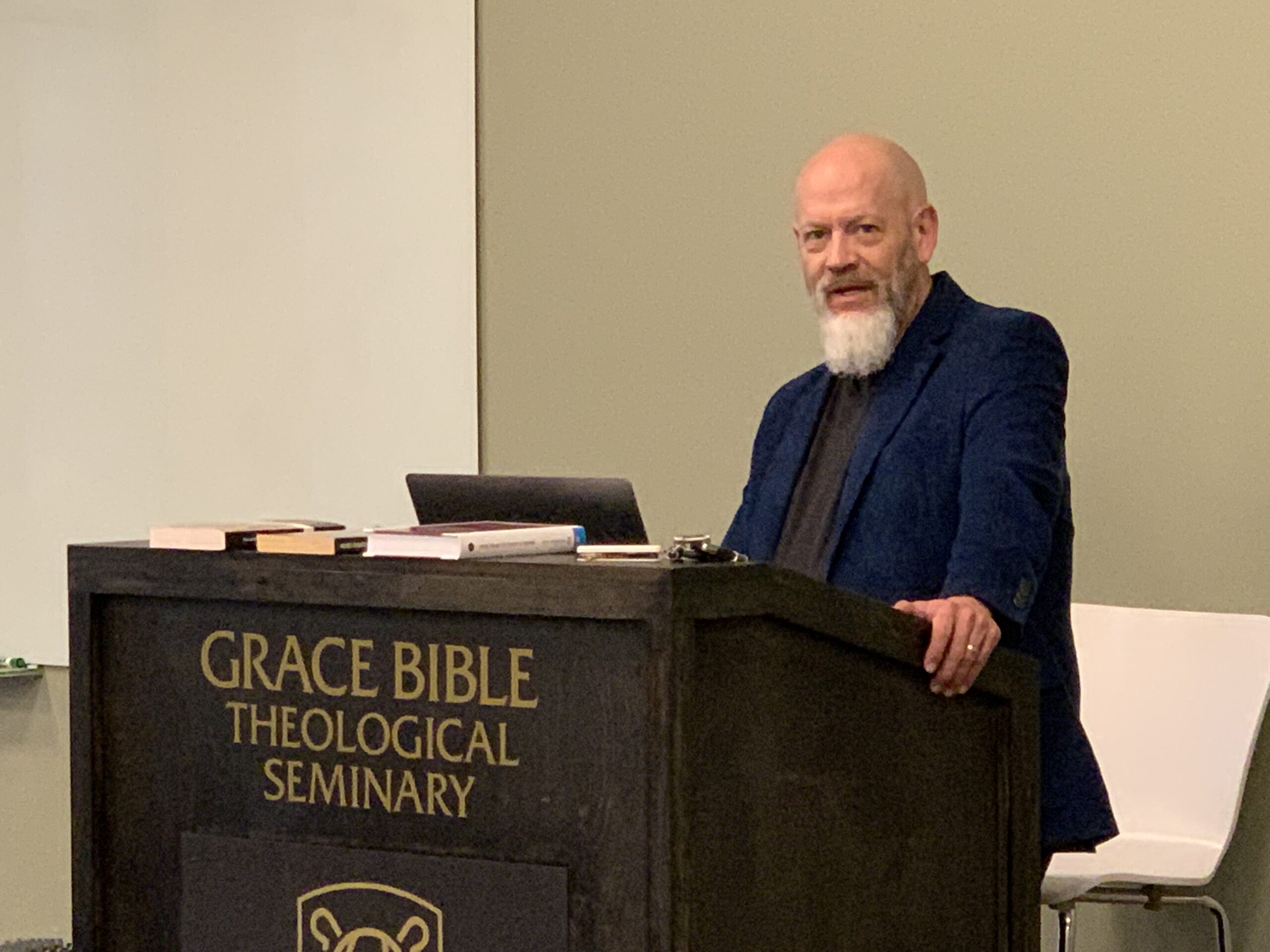 CONWAY, Ark. – James White, Professor of Apologetics and Church History at GBTS, conducted a three-day on-campus intensive course, Early Church History, September 29-October 1 at Grace Bible Theological Seminary in Conway, Arkansas. White is the Director of Alpha and Omega Ministries in Phoenix, Arizona, and a prominent debater. White led students on a journey from the last decades of the first century through AD 600, teaching lessons from the church's past that contemporary churchmen can apply to the present day.
Duffey Henderson, a second-year M.Div. student who traveled in to Conway from Emory, Texas, noted how the early church fathers offer a variety of theological perspectives. He remarked, "The Early Church intensive with Dr. White was an insightful and robust tour through the first 600 years of Christ's church. Dr. White showed us an even-handed summary of where the early church fathers both erred and succeeded in preserving the truth of God and his Word."
Sam Muñoz, a first-year M.Div. student who made the long trek from Cherry Hill, New Jersey, commented on how the GBTS intensive helped him to understand the doctrine of Scripture in the early church. Muñoz stated, "The three-day intensive with Dr. James White was amazing. Dr. White effectively presented historical evidence that man has often attempted to 'aide' and supplement the doctrine of God's unmerited grace in salvation. Dr. White meticulously made the case that this path is perilous as it will inevitably lead one to lose sight of the sufficiency of Scripture in formulating doctrine."
Twenty-three students from all over the United States, including Arkansas, Louisiana, Montana, North Carolina, New Jersey, New York, Oregon, and Texas participated in the three-day event. Members of Grace Bible Church of Conway provided meals and hospitality throughout the duration of the seminars. GBTS offers on-campus intensives throughout the academic year for students who have been admitted to the seminary's degree programs.