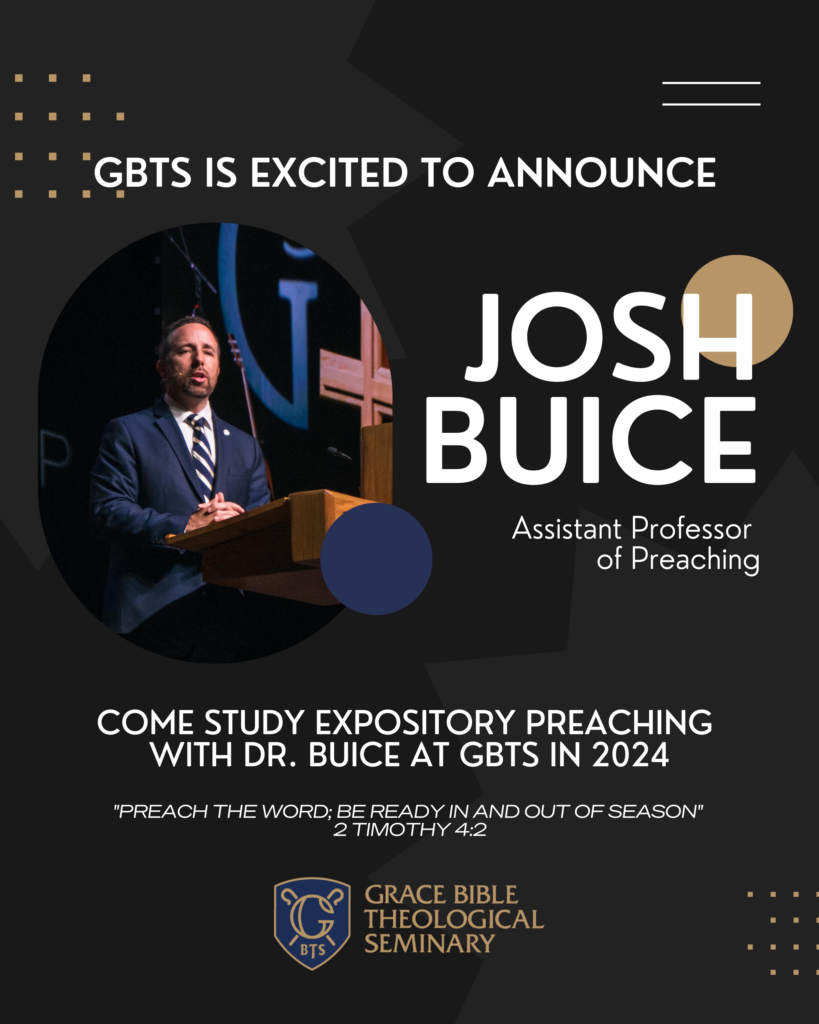 Christ gives gifts to his church, including pastors and teachers (Ephesians 4:11), and we are overjoyed to announce the most recent "gifted one" that the Lord has entrusted to Grace Bible Theological Seminary. Our latest GBTS faculty appointment is Dr. Josh Buice, who will join our Pastoral Theology department as Assistant Professor of Preaching. Dr. Buice joins esteemed colleagues Rob Davis (Instructor of Pastoral Studies), Dr. Ryan Bush (Associate Professor of Missions), and Dr. Scott Aniol (Professor of Pastoral Theology) as members of our Pastoral Theology faculty.
Buice earned his Doctor of Ministry (D.Min.) in Expository Preaching from Southern Baptist Theological Seminary (Louisville, KY) along with his Master of Divinity (M.Div.). He serves as the Pastor of Pray's Mill Baptist Church, a congregation established in 1842 in Douglasville, Georgia, that began hosting the G3 (Gospel, Grace, Glory) Conference ten years ago in 2013. Now a decade later, the G3 National Conference has grown into one of the largest Christian conferences in North America, and it has spawned an organization, G3 Ministries, of which Buice is the President and Founder. G3 Ministries produces media resources and hosts conferences, workshops, and study tours designed to build up the local church. Buice writes regularly at his Delivered by Grace blog on the G3 website.
Regarding Buice's faculty appointment, GBTS President Jeffrey D. Johnson notes, "I continue to be amazed at what the Lord is doing at GBTS. He has extended His favor to us beyond what I ever could have imagined. The addition of Dr. Josh Buice to our faculty is a blessing from God that fills my heart with thanksgiving. Dr. Buice is a man of God and a gifted teacher who will bring top-level instruction and spiritual enrichment to our students." Similarly, Provost Owen Strachan adds, "Josh Buice is one of the finest expositors of our generation. He is a tried and tested man, and God has used him to lead Christ's church to health, protection, and joy. I am thrilled to labor with him, shoulder to shoulder, in the work entrusted to us at GBTS. We are nothing, but God is everything."
Buice will remain in residence in Georgia in his full-time roles at Pray's Mill Baptist Church and G3 Ministries, and as a member of our rotational faculty at Grace Bible Theological Seminary, he will regularly teach PT 513 Expository Preaching. Expository Preaching is a required course in both the Master of Divinity (M.Div.) and Master of Arts in Pastoral Studies (MAPS) degree programs at GBTS.
Josh and his wife, Kari, have four children: Karis, John Mark, Kalli, and Judson.
---
For more on the 2023 G3 National Conference (Sept. 21-23, 2023 in Atlanta, GA), please see https://g3min.org/events/g3-2023-the-sovereignty-of-god/#register.
For more on Grace Bible Theological Seminary, please see https://gbtseminary.org/.