We are delighted to release the second volume of Pro Pastor: A Journal of Grace Bible Theological Seminary! In our new issue of the journal, we continue our goal of making deep theology accessible to non-scholars. Pro Pastor 2.1 is entitled "Making Sense of Missions." Most of our contributors in this issue are missionaries who serve on the front lines of countries all across the globe.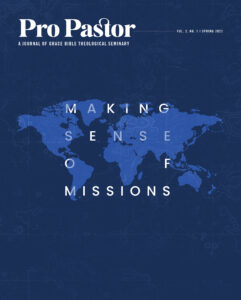 Pro Pastor 2.1 features the following articles:
Paul Snider (Indonesia), "The Prerequisite of Missions: Praying for More Missionaries"
Ryan Bush (HeartCry, Latin America Coordinator; GBTS), "A Case for the Missionary as Pastor"
E. D. Burns (Southeast Asia), "A Case for the Missionary as Preacher"
Taylor Walls (Ecuador), "'Fellow Workers for the Truth': The Relationship between Missionaries and Missionary-Supporters in 2 and 3 John"
Salvador Gomez (Dominican Republic), "Not a One-Local-Church Job: The Practical Benefits of Strong Interchurch Relations in Missions"
Jeff Bys (Kenya), "The Importance of Mercy Ministry in Missions"
Scott Aniol (G3; GBTS), "Cultural Contextualization in Missions That Accords with Sound Doctrine"
You can access a free electronic copy of Pro Pastor 2.1 by clicking here. Please pass this link along to those who might benefit from its contents: https://gbtseminary.org/gbts-journal/. It is our hope that the Lord might use this issue of our journal to mobilize churches and stir hearts to make the name of Christ known among the nations (Psalm 96:3).